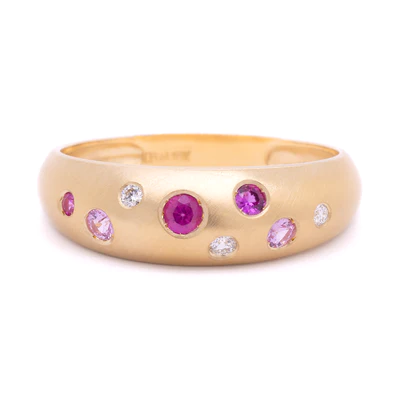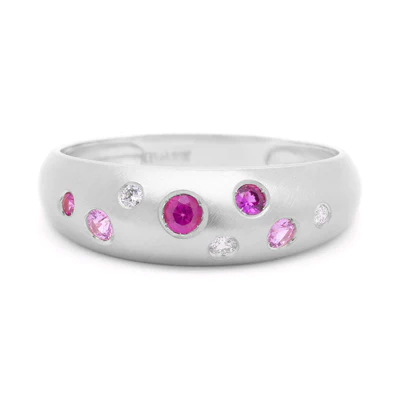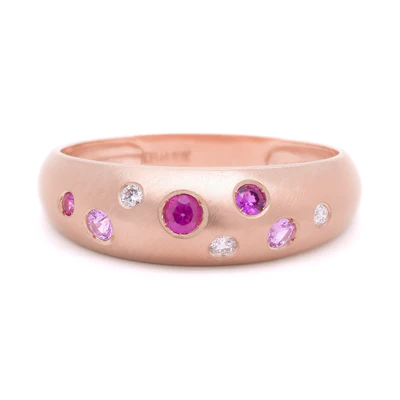 Sunburst Bombe Ring | 6mm
Please allow 4-6 weeks for production and delivery.
Elevate your everyday look with our soft Bombe 'Luna' Sunburst ring, An elegant combination of pink sapphires and diamonds.  

5 x Round Brilliant cut Pink Sapphires of varying color and size from 1.5mm to 2.6mm.
2 x 1.5mm round brilliant cut G-VS diamonds (0.015ct)
1 x 1.7mm round brilliant cut G-VS diamonds (0.02ct)

Band: 6mm wide, tapering down to 2.5mm at the back. 
This beautiful ring is hollow on the inside to allow for a comfortable, lightweight feel.  

Bombe rings, or 'Bombé' (pronounced Bombay) rings have an appealing rounded dome shape. The name was inspired by the 19th-century French dessert: "Bombé glacée" due to it's half domed shape. 
Bombe rings appeared originally in the Edwardian period but became very popular in the 60s and 70s, and now again today!
Share