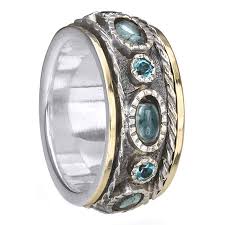 Please allow 2-3 weeks for production and delivery.
Product Description: 
Unique sterling silver Meditation Ring featuring semi-precious blue topaz gemstones and oxidized spinning band with two yellow gold edges.
Meaning: 

You are a creative and highly idealistic individual that has a continuous desire to be on a meaningful path. As a dreamer, you strive for a life with endless possibilities and adventure. Your ambitions and desires can easily become your destiny. Spread your wings and soar, for all things imaginable are possible.
Blue Topaz Benefits: 
Blue topaz helps promote inner peace and mental stability as well as communication, truth and wisdom. It is known to soothe, recharge, stimulate, and direct the energies of the body to where they're required the most. Blue Topaz is associated with the throat chakra.
Product Details: 
Materials: Sterling Silver & 10K Bonded Yellow Gold
Stones: Semi-Precious Blue Topaz Gemstones

Ring Width: 11 mm
Share