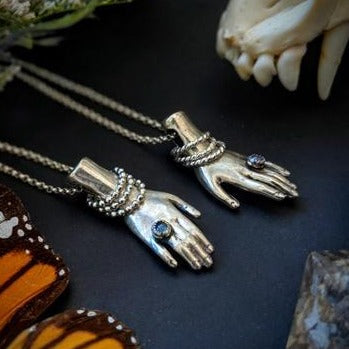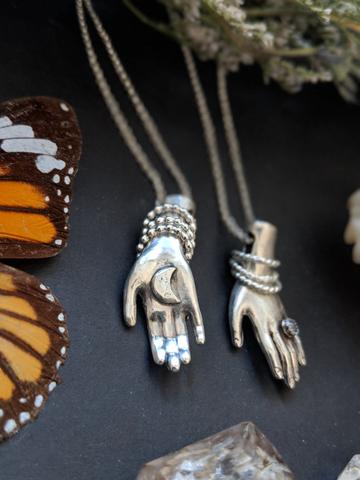 Hand Necklace with Moonstone Ring and Moon Palm
Please allow 10-15 days for production and delivery if this item is not in stock.
Note: Please be advised that this item may vary subtly from that pictured, featuring two bracelets instead of three, and a paler moonstone in a bezel that does not have a scalloped edge. 
Description:
 As ancient as the moon itself, the meaning of Moonstone lies within its energy. This power can nourish, give passion, and awaken your feminine energies. It can heal and guide you to your inner path. Together with the waxing and waning of the moon, it evokes tranquility that has a sensual, esoteric feel to it. It exudes a glowing vitality that can re-energize the mind and body and wash negativity away. Since it is enveloped by strong rays of gold, blue, and purple, Moonstone is perpetually embraced with gleaming white energy that makes it a protective gem.
Details:
Materials: Sterling Silver, Moonstone
Chain Length: Available in 16", 18", and 20"
Pendant Dimensions:
- Height: 35mm
- Width: 14mm (at widest point)
Stone Dimensions:
- 3mm x 3mm
Share