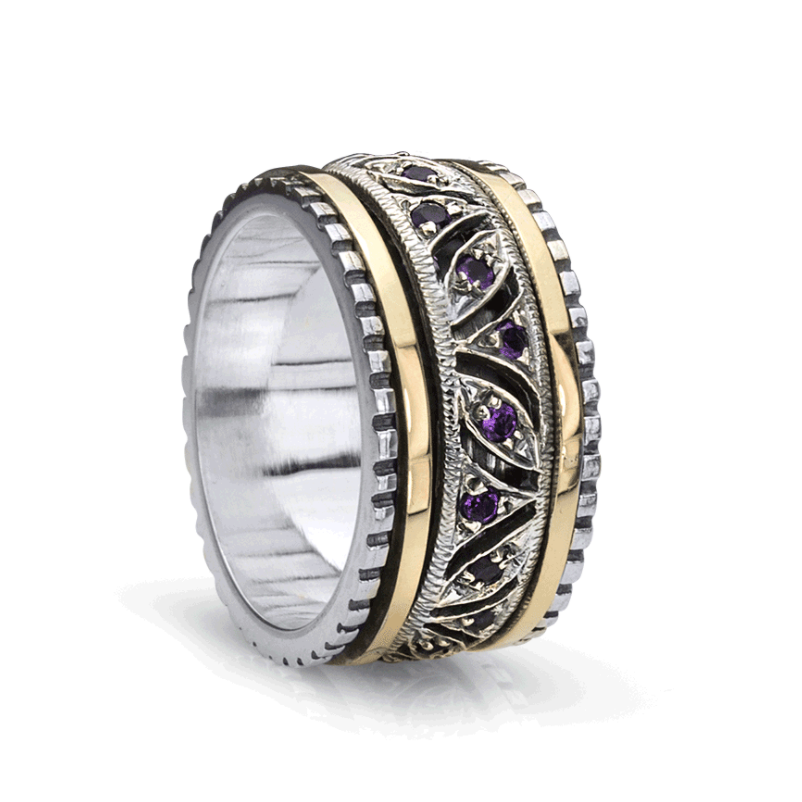 Please allow 3 - 4 weeks for delivery.
Product Description: 
Beautiful sterling silver Meditation Ring featuring semi-precious amethyst gemstones in a leaf pattern with a silver spinning band bordered by two yellow gold spinning bands.
Meaning: 

Your love is eternal. You are sentimental and sensitive, your love for others runs deep. Those around you are easily drawn to your charismatic and calming personality. Strong and fiercely independent you strive for perfection and happiness. Stay true to who you are, always.
Purple Amethyst Benefits: 

Amethyst can bring courage, strength and peace to the wearer. It also helps promote healing as it is a soothing stone with peaceful properties. Amethyst is a great stone for anyone suffering from anxiety, mood disorders and addictions. Purple Amethyst is associated with the crown chakra. 
Product Details: 
Materials: 925 Sterling Silver & 10K Bonded Yellow Gold Spinning Bands
Stones: Semi-Precious Amethyst Gemstones 
Ring Width:

 

11 mm  
Share