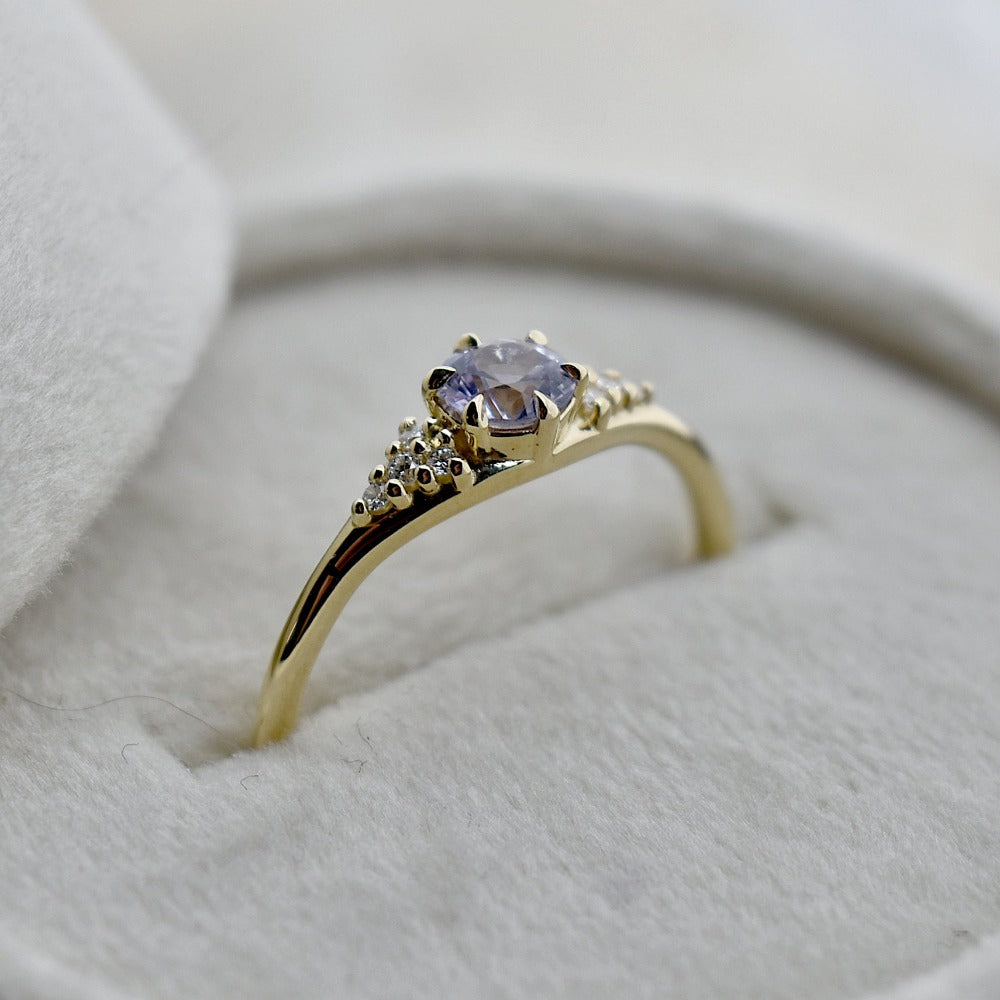 Finding your ring size is a fairly simple task, but considerations should be made. If you are choosing a wider ring or band you may want to go up in size for comfort, as a wider band will take up more surface area on the finger and can feel snug. Thinner rings or bands should be true to your size. Your dominant hand can also be 1/4 to 1/2 a size larger than you non-dominant hand. In colder weather fingers and hands can shrink a bit, conversely they can swell a bit in the hotter months. Magpie Jewellery also sizes rings that are made of precious materials; silver, gold, and platinum in house.
Confirm the correct size of your print out
Measure the bar below to make sure your print out is correctly sized. If the bar does not measure exactly 3 inches, check that page scaling is set to "none" on your print dialog box, and that you are printing at full size.
Use a sizer to measure finger
Cut out the sizing guide below Wrap the sizer around the knuckle (or widest part) of the finger to be sized. Start by placing the flat end of the strip on the finger, and wrap the arrow end around until the fit is snug.
Once wrapped, the number closest to the arrow point is the ring size. Hash marks between the numbers represent half sizes. If in doubt, move up the next largest half size. (Maybe wrap in tape so the paper does not rip)

The chart below speaks to the diameter of a ring in millimetres. If you have a ring currently, measure with a ruler across the centre of it. Using the chart determine your ring size from the correlating measurement:
(e.g. a ring that is a size 8 has a diameter of 18.2mm)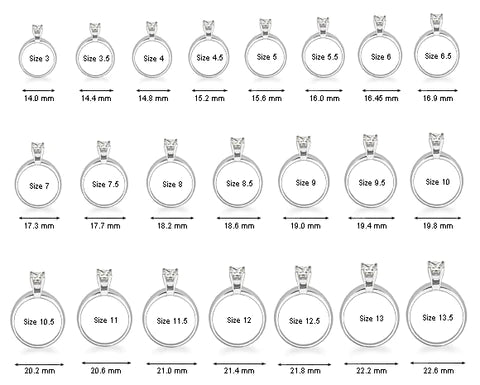 Use a string or a twist tie
If you have measured the finger to be sized with string, or know the circumference in millimetres, use the following chart to convert the length to a ring size. If in doubt, move up to the next largest half size.
Size 1 39.1 mm
Size 1.5 40.4 mm
Size 2 41.6 mm
Size 2.5 42.9 mm
Size 3 44.0 mm
Size 3.5 45.2 mm
Size 4 46.5 mm
Size 4.5 47.8 mm
Size 5  49.0 mm
Size 5.5 50.3 mm
Size 6 51.7 mm
Size 6.5 53.1 mm
Size 7 54.3 mm
Size 7.5 55.6 mm
Size 8 57.2 mm
Size 8.5 58.4 mm
Size 9 59.7 mm
Size 9.5 60.9 mm
Size 10 62.2 mm
Size 10.5 63.5 mm
Size 11 64.7 mm
Size 11.5 66.0 mm
Size 12 67.2 mm
Size 12.5 68.5 mm
Size 13 69.7 mm
Size 13.5 71.0 mm
 If you are unsure of your size or if you are if you are shopping secretly for someone, one of these methods should work for you. However, it really is best to be sized professionally by one of our knowledgable team members. If you are in the Ottawa area please contact us and we can arrange to size you.