Ottawa's alternative bridal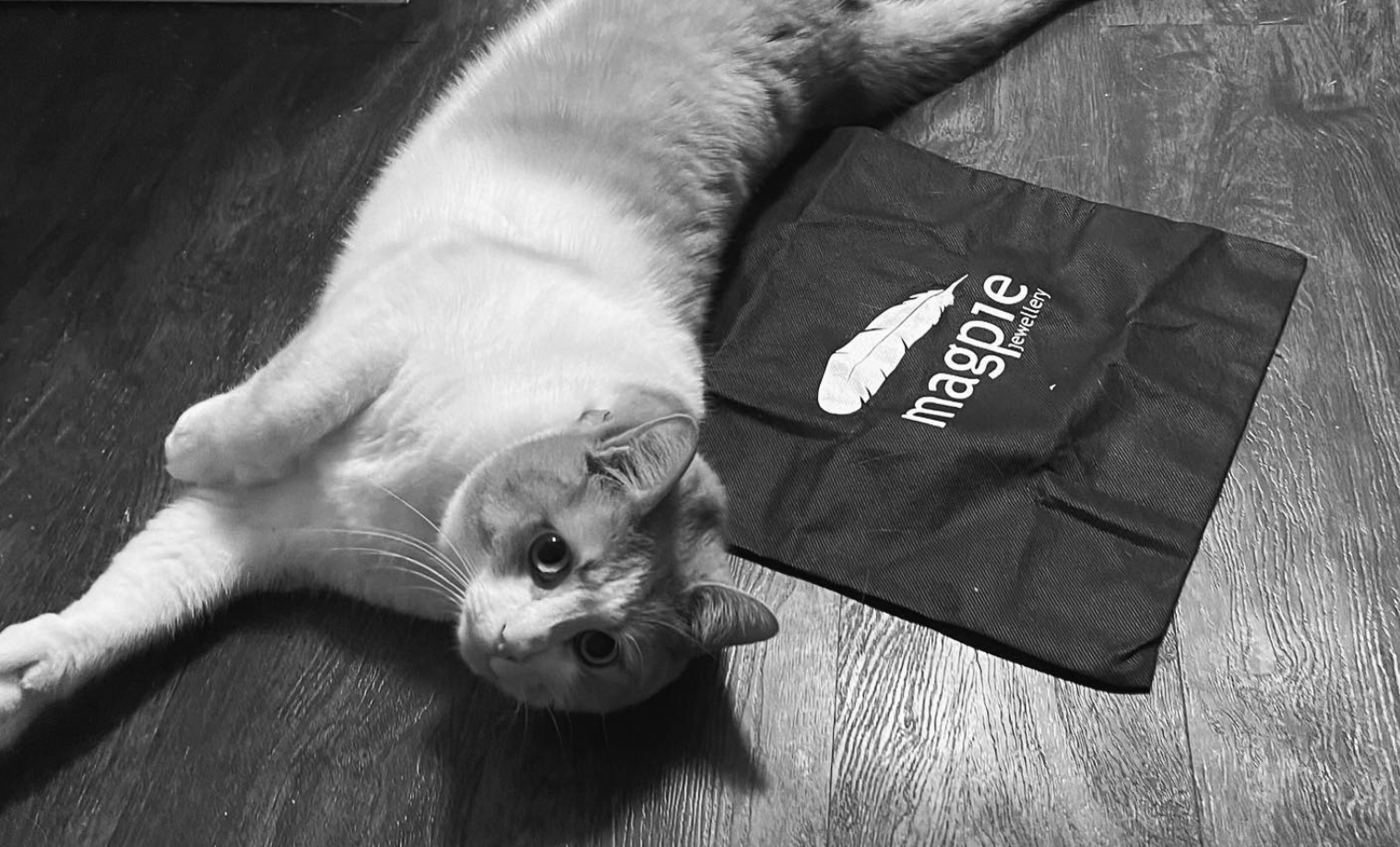 We're here to help! These are some of the frequently asked questions we are asked. If you have a question not listed here, please don't hesitate to contact us at info@magpiejewellery.com
FAQ
The instore-pickup options available on our website are technically 'shipping' options, so you will be prompted to input your shipping information. Once you reach the next step the options will be available to you choose which location for pick-up. Currently we only offer instore pick-up at our Glebe and Westboro locations, if you need to pick-up at the Rideau Centre, please reach out to the chat and we can accommodate your request.
Yes! Though the user will need to have a printed copy or the email confirmation and have the name and email address of the person who purchased it online. Unfortunately, an in-store Magpie Gift Card cannot be used online by the user but a work-around is possible, please reach out to r.young@magpiejewellery.com if you have an in-store card you would like to use online. 
Magpie Jewellery has three brick and mortar locations in the Nation's Capital, Ottawa. Find more information about all of our locations here. Through our online store we ship far and wide, if you have any questions about the website please contact r.young@magpiejewellery.com.
Most of the artists Magpie works with have small batch collections, and a lot of pieces are handmade. If we don't happen to have the item, size or colour in stock at one of our 3 locations, then the item will be made to order for you. If you need something rushed, sometimes it is possible. Please email r.young@magpiejewellery.com for any 'rush' possibilities.
Often communication can get lost in the 'nether' unfortunately. Please check your junk or promotions folders for an email as our messages get filtered there sometimes. Also ensure you have provided the correct email address, and please attach a phone number to your contact information. If there is an issue with your order and the email address you provided is incorrect or our emails haven't been delivered, if we do not have a phone number we cannot contact you.
Our return policy is the same for items purchased online as for in store. Unworn items may be returned within 14 days, or exchanged within 30 days with proof of purchase. Considerations will be made for items being shipped, to fit within these parameters. 
Every item that is purchased through the website is carefully packaged in a white, branded Magpie box and a grey satin or raffia ribbon, if you require gift wrapping it is available as a free item you can add to your cart. We do not ship items with a price tag.
Some pieces can be ordered in other metals, or with other stones depending on the designer. If there is something you see online and you would like to inquire whether it comes in another colour or with another type of stone, please email r.young@magpiejewellery.com for inquiries.
Magpie has many pieces that are available in store and not online. We can make it available for you to purchase online, contact r.young@magpiejewellery.com for inquiries.
Absolutely! In fact, it is one of our favourite things to do, redesign and repurposing a client's gold and diamonds from heirloom pieces for a new generation. Head over to our custom FAQ for more details or please contact info@magpiejewellery.com for more information.
Yes! We can source any diamond specifications you need from a 0.10 carat to a 10 carat diamond (oh my!) in any cut and in any colour! White diamonds, salt & pepper diamonds and rustic diamonds. We are also a Diamond Foundry partner, and can source lab grown diamonds as well. Expertly procured by our Gemologist with over 30 years experience. We are your trusted partner in the process of finding the right diamond for you.
Magpie Jewellery takes every precaution to ensure that our jewellery is as ethical as possible. We source all of our diamonds and gemstones from trusted partners who are heavily regulated and adhere to strict standards. We use recycled materials whenever possible. The majority of our jewellery is handmade by small-scale artists and goldsmiths.
Yes we do, we have partnered with Sezzle. Inquire in-store or use online!
Shipping & Delivery
It depends if your item is in stock, to start please allow our team 1-3 days to process your order. You will receive a follow up email if your items are made to order. You'll receive a secondary email when your order is ready for pick-up in store, or one containing the shipping & tracking information if your order is being shipped.
We offer free shipping on all orders shipping in Canada over 200$
Yes, we ship our products all over the globe.

Please note that free shipping is not applicable for international orders and that shipping rates could vary depending on your region.
If you're not sure, please reach out to info@magpiejewellery.com with your address and we can let you know!
Returns & Refunds
We offer refunds on unworn jewellery; you have 14 days to return for your money back, 30 days for store credit or exchange. For online purchases we take shipping times into account for this policy, if your online purchase is not to your satisfaction please reach out immediately to r.young@magpiejewellery.com
When an order does not include free shipping, all shipping costs (including the return shipping) are handled by the customer.
When an order includes free shipping, only the cost of the return shipping is handled by the customer.
Warranty & Repair

All of Magpie's jewellery is covered by a standard 3 month warranty, including regular inventory, special orders and repairs.

The guarantee covers any manufacturing, design, or material defect. Please notify us within 3 months of noticing any defects.

Our warranty does not cover damage caused by negligence, improper use, or other issues that are not attributable to a manufacturer defects.
Magpie does not offer an extended warranty, beyond the three months. Magpie offers in-house repairs at a discounted price for all Magpie pieces. Certain designers will also offer their own extended warranty, please contact us with any specific warranty related questions at info@magpiejewellery.com.
For custom designed pieces our warranty is up to a year, or longer depending on the circumstances.